[Originally published in The Atlantic]
The artist's portraits of neighbors, icons, and strangers show a keen and democratic attention to detail.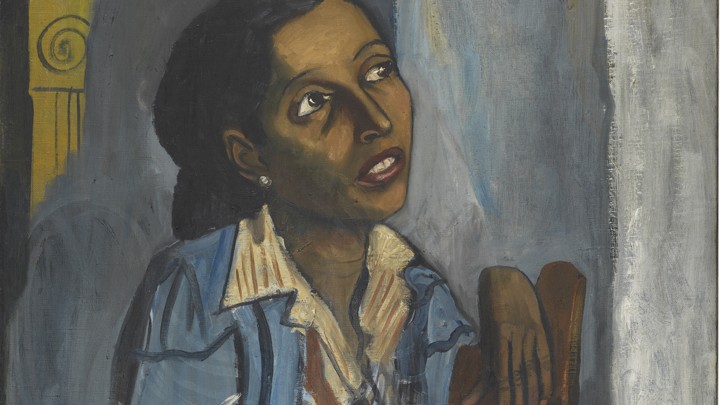 A detail from "Mercedes Arroyo," 1952DAVID ZWIRNER GALLERY
When, in 1938, Alice Neel decided to relocate from Greenwich Village to Spanish Harlem with José Negrón, a musician and her then-boyfriend, she was making a bold yet potentially career-destroying move. During the early '30s, Neel had participated in New York's first open-air exhibitions, held in Washington Square, which had begun to put the city on the map as a hotbed of abstract art—and had befriended artists like Joseph Solman, who would go on to found The Ten, a prominent group of expressionist painters.
In addition to being part of the decade's zeitgeist as led by downtown artists, Neel's own star was ascendant: In 1932, the Philadelphia Inquirer had written that her paintings "reveal[ed] the possession of interpretive gifts out of the ordinary," while at the American Artists' Congress exhibition in 1936, her work was singled out for recognition in the New York World Telegram. Why then, her peers might have wondered, would an artist who was just beginning to garner critical attention shun the New York art world's epicenter for a poorer neighborhood that few knew or cared about?
The answer to this question might lie in the retrospective Alice Neel, Uptown, a fascinating exploration of the painter's symbiotic relationship with Harlem. The show, on view at the David Zwirner Gallery in New York City, is curated by the New Yorker critic Hilton Als, who describes Neel's subjects as "artists, writers, everyday people, thinkers, and upstarts of color"—all of whom she painted over the course of the nearly 50 years she lived and worked uptown, before her death in 1984. The potent yet personable paintings, mostly done in oil, are enduring proof of Neel's curious, compassionate eye, on and off the canvas. "Whether I'm painting or not, I have this overweening interest in humanity," she once said. "Even if I'm not working, I'm still analyzing people."
The burbling, bohemian vibe of Greenwich Village didn't hold much interest to the Pennsylvania-born Neel (she thought it too "honky-tonk"), and her portraits were at odds with the abstract expressionism that would come to dominate the New York art scene. As the art historian Jeremy Lewison has written, "Neel's devotion to the realist depiction of the human form in an era of increasing abstraction … confirmed her position as an outsider." Her indifference to the artistic trends of the time was partly a result of having spenta year (1926-1927) living in Cuba, with her first husband Carlos Enríquez, also a painter. According to Phoebe Hoban, in her book Alice Neel: The Art of Not Sitting Pretty, it was while immersed in Havana's art scene that Neel came to believe that art could be political, revolutionary, and sociological, documenting and capturing everyday people in times of social crisis and cultural change.